De'Longhi ECP3630 Review: Home Espresso Machines
There's nothing like the smell of a hot, freshly brewed cup of coffee in the morning. Something about that rich, flavorful aroma and robust taste gives me a much-needed boost for the day and all its challenges. My first challenge though is getting a cup of heavenly coffee without standing in a long queue at the coffee shop. The easiest way is to invest in a quality espresso machine.
One of the espresso coffee makers I've added to my shortlist of products to consider is the espresso machine De'Longhi ECP3630. This nifty manual manual espresso machine is part of the ever-popular DeLonghi espresso machines that are taking the United States and the rest of the world by storm.
Established in 1902, De'Longhi has developed impressive home espresso machines that provide coffee lovers with a way to make a variety of their favorite coffee drinks. De'Longhi received the brand of the year award in 2019 which recognizes brand presence in an ever-expanding market. De'Longhi coffee makers are market leaders in the coffee-making industry because of their elegant and simplistic designs.
Investing in a De'Longhi ECP3630 pump espresso machine will be an excellent way to make sure you have your first cup of coffee as early as you want, in the comfort of your own home! I'll be sharing a detailed breakdown of some of the key features that make this unit so popular.
Things to Consider Before Buying a De'Longhi Pump Espresso Machine
At some point, every coffee lover considers getting their own home espresso machine. There are two very definitive advantages to owning a coffee maker. Firstly, you no longer need to spend time queuing in coffee shops. Secondly, you get to enjoy a cup of your favorite coffee drink at any and as many times a day as you prefer.
If you're thinking an espresso machine is an extravagant purchase, consider the following pointers before making a final decision:
– Do you drink a lot of coffee? Does your household's coffee consumption justify the expense?
– What budget can you work with? Will your budget cover the coffee machine you need to make your favorite coffee drinks? Always try and find a product that has maximum features but still fits within your price range.
– Not all espresso makers make the same coffee drinks. Make sure the model you're considering can make the drinks you require. If you enjoy large cups of coffee, check if the coffee maker can accommodate taller cups. Some coffee makers can only accommodate small espresso cups. This isn't ideal for a person who enjoys the occasional latte or coffee on the go in a travel mug.
– Will you require a manual or automatic espresso machine? Would you like additional features? Bear in mind this could affect cost.
– Where in the kitchen will you put this espresso maker? Do you have enough space for the model you've short-listed? There's no point in buying a unit that's inconvenient to use. Ideally, you want a coffee maker that fits on the counter, conveniently close to its own designated power source, and where there's enough ventilation.
– How much time can you dedicate to maintenance and cleaning? Consider looking for coffee makers that have self-cleaning functions. Coffee makers need to be cleaned after every use to prevent limescale and coffee ground build-up. The simpler this process, the better.
If I could give you a tip here, calculate the average amount of money you spend on buying coffee every day over a month. Compare this to the price of an espresso maker plus coffee products. This will give you an idea of whether or not buying a coffee maker will be value for money. In my scenario, it's a slam dunk. I need an espresso and cappuccino maker which is why I'm going to explore the features of the De'Longhi ECP3630 pump espresso machine.
If I could give you a tip here, calculate the average amount of money you spend on buying coffee every day over a month. Compare this to the price of an espresso maker plus coffee products. This will give you an idea of whether or not buying a coffee maker will be value for money. In my scenario, it's a slam dunk. I need an espresso and cappuccino maker which is why I'm going to explore the features of the De'Longhi ECP3630 pump espresso machine.
Features and Benefits
Browsing for the ideal espresso and cappuccino machine must include researching product reviews. De'Longhi ECP3630 reviews will highlight the advantages as well as any potential flaws. Reviews are made up of users' comments and experiences, which will give you an indication of the product's quality.
It's also necessary to compare and consider particular specifications. A good idea is to compare specs of different models within the same price point. Let's have look at the most prominent features and specs of the De'Longhi ECP3630 espresso machine.
Design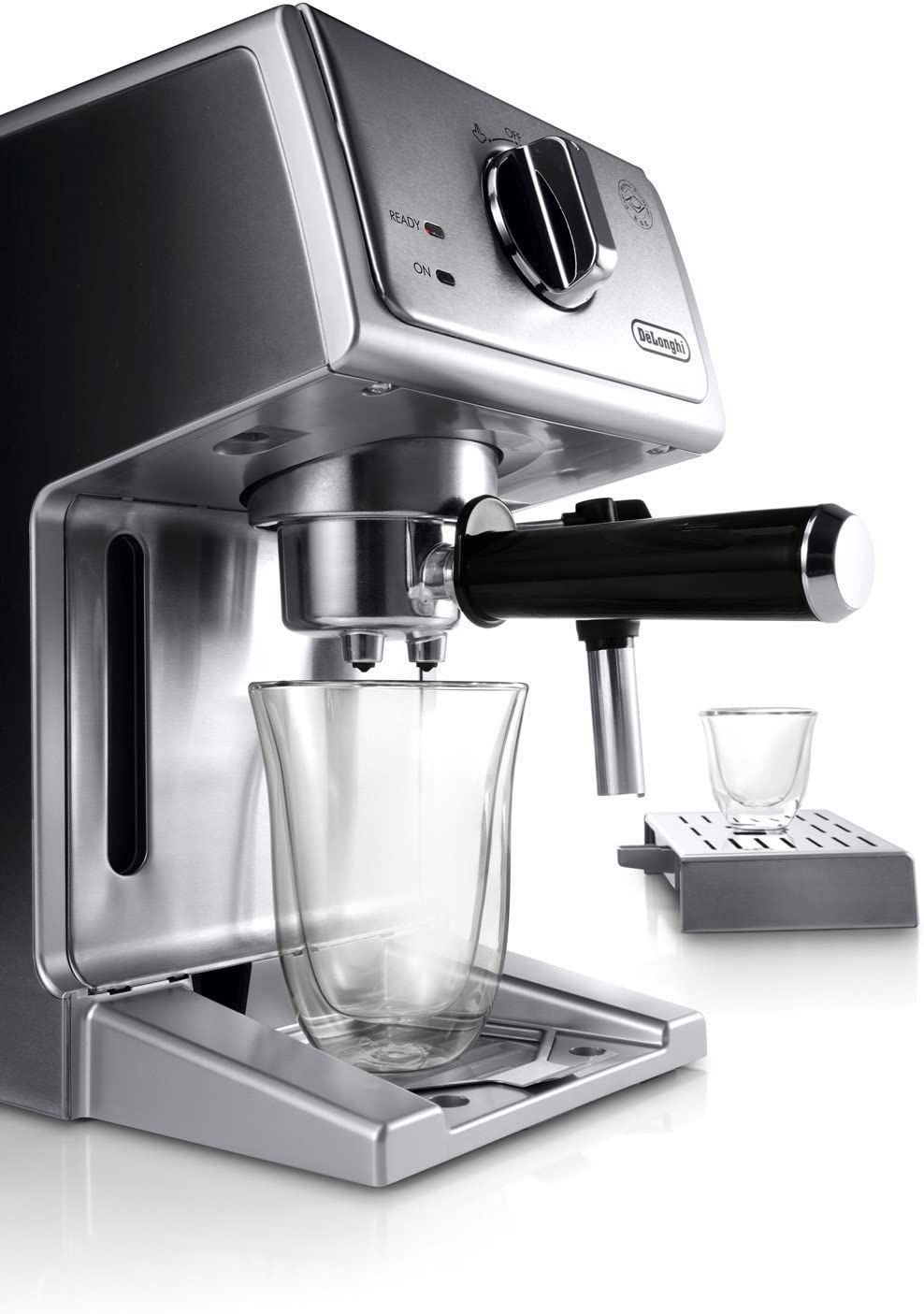 De'Longhi products are well known for their simplicity and elegance and the ECP3630 doesn't disappoint. With its gray plastic and brushed stainless steel control panel, this model looks like it belongs in a high-end coffee shop. Traces of chrome on the steam wand, dials, grill, and porta-filter make the design durable and elegant.
Dimensions of 9.6 x 7.2 x 11.9″ and the total weight of 9.8 lbs, make the De'Longhi ECP 3630 easy to fit on narrow countertops and also move around if necessary.
Features and Functionalities
The De'Longhi ECP3630 is designed as an entry-level unit. Aimed specifically at budding baristas, this model is perfect for beginners. That makes this semi-automatic coffee maker the easiest kitchen appliance you'll ever use! Let's have a look at some of the features that make it such a popular choice for first-time coffee maker owners.
Water Reservoir
All De'Longhi models come standard with a water reservoir. Located inside the machine's body, the water tank can easily be removed, refilled, and reattached. The water-filling capacity of 37 ounces also conveniently features a transparent front, making it very easy to see the water level and establish how much water's left. It takes the guesswork out of knowing when the water's almost finished!
Control Panel
Simplicity is evident in this coffee maker with its two LED indicators and a single switch. Both are easy to access and with these being the only features on the ECP3630, this coffee machine is very easy to use!
Other complex coffee makers have many buttons and levers indicating different features and functions. These types of coffee makers take some getting used to. De'Longhi however, tries to eliminate this by making their espresso and coffee makers as simple to understand and use as possible.
Drip Tray
Another feature common to all De'Longhi espresso makers is the drip tray. Not only does it collect spills, but it's also conveniently removable. This makes it easy to clean as well as take out to fit a taller cup under the spouts. The sliding drip tray accommodates cups to 5" high. This is perfect for anyone who enjoys a tall cappuccino!
Porta-filter
The porta-filter is the most prominent feature in any coffee maker's brewing process. The porta-filter contains ground coffee beans that create your favorite coffee drink once the hot water passes over it.
This model comes with a variety of porta-filter sizes which makes it possible to make your preferred drink in any size. You'll need to remove the residue after each cup of coffee and refill the porta-filter with new coffee grounds for your next drink.
Setup and Operation
De'Longhi designs its coffee ad espresso makers to be easy for anyone to use. When I tested the ECP3630, I was surprised at just how simple it is to operate:
Fill the water tank with clean, filtered water. It's always best to use filtered water in coffee makers as this minimizes limescale build-up.
Plug the unit into the closest power source.
Turn the knob to the right. This will switch the machine ON.
While the water starts heating, load the required amount of ground coffee beans in the filter basket and place it into the dispenser.
The "READY" light indicator will flash to signify that the heating coil is hot enough.
For a single espresso shot, place a small cup under the spout. Place a taller cup under the spout for a double shot of coffee.
To initiate the brewing process, turn the knob further to the right. Once the brewing temperature is reached, your coffee drink is ready to be enjoyed!
If you want to add a frothy top to your coffee drink, simply turn the steam wand ON by turning the knob to the left.
Adding milk to your drink will require you to inject some air by using the wand directly.
Once you're finished making coffee, simply clean the unit by removing any excess coffee grounds.
Brewing Capacity and Process
With a brewing capacity of 37 ounces, the De'Longhi ECP3630 isn't the perfect choice for large families who drink a lot of coffee. This means it's also not ideal for an office coffee maker. But, if you're the only coffee lover in your home, it'll be sufficient. A self-priming operation ensures minimum startup, which is always a big plus!
The ECP3630 brews by making use of a 15 bar pump espresso pressure system and an 1100 watt stainless steel boiler. Three different filter baskets mean you can have a single shot, double shot, or espresso pod brewing. De'Longhi's Advanced Cappuccino System simplifies the milk frothing process by automatically injecting air directly into the milk to create creamy, rich foam.
The Rapid Cappuccino System maintains the perfect temperature allowing you to brew cup after cup without having to wait for the machine to heat up. The De'Longhi ECP3630 also functions with two separate thermostats. Steam and water are controlled separately enabling you to make espresso or cappuccino at the perfect temperature and to your personal preference. The cup sizes can accommodate espresso, cappuccino, and latte options.
Another pleasant plus point to this machine is its cup warmer feature. The warming tray situated on top of the machine allows you to warm your cup while the machine is turned on. This will keep your drink warmer for longer. It's also helpful for those instances where your coffee got cold because you got distracted with something else!
Cleaning and Maintenance
It's important to know that you'll have to clean this unit after each drink. The simplest way to clean the porta-filter is to empty the coffee residue and rinse it with tap water. The steam wand should also be cleaned after every use. Simply place it in a cup of hot water and let it submerge for a few minutes. Use a kitchen towel to dry it off before using it again.
The water filter should also be changed every 2 months if you're using the coffee maker regularly. Cleaning the exterior is as easy as wiping it down with a damp cloth.
Accessories and Add-ons
Since the De'Longhi ECP 3630 is an entry-level unit, it doesn't come with accessories. It doesn't even have a coffee grinder. If you choose this unit, you'll have to purchase a separate coffee grinding machine.
There are also a host of other add-ons you can purchase directly from De'Longhi such as milk frothers, stainless steel jugs, and travel containers that allow you to make coffee to go. Remember to factor the cost of this into your total budget.
Alternatives Home Espresso Machines
If the De'Longhi EC3630 is too basic for your coffee drinking needs, the good news is, there are a couple of other options to consider. Let's have a look at two other popular alternative coffee makers that have earned at least four stars in their customer reviews.
If the EC3630 is smaller than you're looking for, the Gevi is for you. Designed with a 1,2L water tank capacity, the Gevi is designed for making coffee in bulk. This makes this model ideal for households where everyone loves several cups of coffee throughout the day.
Unlike the De'Longhi, this unit works with a 20 bar electromagnetic pressure system. A milk frother makes delicious milk foam every time. Thermoblock heating technology delivers even heating for a great tasting espresso every time!
De'Longhi EC680M Espresso, Stainless Steel, Metallic
Another show stopper from the De'Longhi range has got to be the EC680M. A step above the ECP3630, this unit has a 1L capacity, allowing for slightly more coffee. Some of the features that make this an option worth considering include the 3-in-1 filter holder, manual frothier, accommodates taller cups, and compact space-saving design. Here are a few key specifications for the two units in comparison to the EC3630.
The Bottom Line
Coffee lovers can agree on two points. The first is a drink with any sort of coffee in it, is worth having. The second is investing in your own coffee maker is a must. Being able to enjoy your preferred coffee drink in the comfort of your home saves you time and stress. The time you save by not standing around in long queues at different coffee shops can be spent perfecting your barista-style drinks.
The De'Longhi ECP3630 is perfect for beginners. With its sleek and compact profile, it's the ideal kitchen appliance for any countertop. By investing in this affordable De'Longhi model, you'll be brewing café favorites in no time. It's never been easier to start your day with a deliciously hot cappuccino!
Treat yourself to your favorite coffee all day long by investing in a De'Longhi ECP3630.